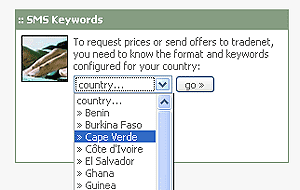 visit 'mobile' menu on your country homepage
then select your country on the 'sms keywords' box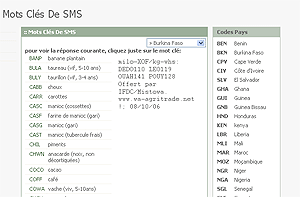 SMS keywords are listed at left. You can change the country to see keywords for other countries.
just click on any keyword to see the current
message response available.



knowing what SMS keywords to send us is crucial for an effective use of tradenet via your mobile. Keywords can change between countries. So always check here first. Just visit the mobile section on your country homepage and then under 'sms keywords' enter the country you are interested in. It willl list all the keywords you need to know. If you click on the keyword, it will even show you the current response we are sending out.

You can also text 'commodity' to +233243708185 for a list of the most common keywords.

code

country
BEN
BKN
CPV
CIV
SLV
GHA
GUI
GNB
HND
LBR
MLI
NGR
NGA
SGL
SLE
GMB
TGO
UGA
Benin   
Burkina Faso   
Cape Verde   
Cote D'Ivoire   
El Salvador   
Ghana   
Guinea   
Guinea Bissau   
Honduras   
Liberia   
Mali   
Niger   
Nigeria   
Senegal   
Sierra Leone   
The Gambia   
Togo   
Uganda   

code

currency
GBP
CVE
GHC
SVC
GMB
EUR
CFA
GNF
LPS
SLL
LRD
NGN
ZAR
UGX
USD
British pound           
Cape Verde Escudo
Ghana Cedi   
Colon   
Dalasi   
Euro   
Franc CFA   
Guinea Franc   
Lempira   
Leone   
Liberian Dollar   
Naira   
Rand   
Uganda Shilling   
US Dollar